Slicing through fabric isn't always easy when your only tool is a pair of scissors. For that reason, rotary cutters are a helpful addition to your crafting toolkit. With the right set of rotary cutters, you can easily trim fabric with precision and speed. Here, we'll cover all the best rotary cutter options on the market so you can stop stressing over jagged cuts.
How to Choose the Best Rotary Cutter
Not all rotary cutters are alike, though they all aim to cut through fabric. A range of factors come into play when choosing the right rotary cutters for your needs. Here's how to choose based on your crafting style, interests, and physical requirements.
[wptb id=2321]
Craft Type
One essential consideration when buying rotary cutters is the material you'll be working with. These cutters come in a range of styles, but most can cut through materials like:
Fabric
Paper
Leather
Felt
Vinyl
Upholstery
Most cutters are multipurpose, but it's worth considering what their intended purpose is. That way, you can more closely select the cutter that will perform best. Pinking cutters, for example, have a clear function that doesn't translate well to, say, upholstery projects.
Manual versus Electric
Deciding whether you need a manual versus electric rotary cutter is an important consideration before you start shopping.
Generally, manual rotary cutters:
Require more effort
Are more precise
Are handy to transport
Store easily
Involve very little maintenance or upkeep
Electric rotary cutters usually:
Require batteries or an outlet
Work faster than manual cutters
Help finish projects quicker—but not as precisely
Power through thicker fabric easier
Require some maintenance and upkeep
Think about whether precision or speed is a priority for you, depending on the type of project you want to complete. Some crafters find that both manual and electric rotary cutters are beneficial to have in their crafting toolkit.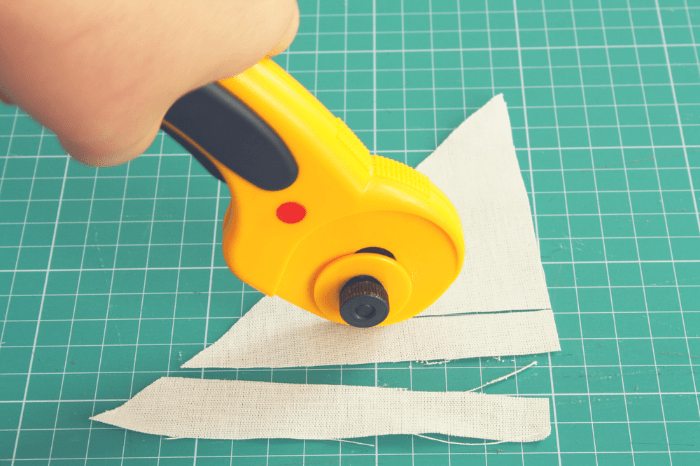 What to Look for in a Rotary Cutter
Here's what to consider before you begin shopping for a rotary cutter.
Ergonomics
The rotary cutter you choose should fit well in your hand and be easy to wield. You don't want an uncomfortable grip for hours of fabric trimming, so looking at ergonomics is essential.
Look for rounded shapes and molded handles that fit in hand properly. Non-slip materials that are softer and easy to grip are ideal.
Versatility
Some rotary cutters are great for general purpose cutting, which means you can use them across a range of projects. Others have specialized functions—like pinking rotary cutters—that are applicable to a narrower range of projects.
Your crafting preferences come in to play here, since you want a rotary cutter that will be useful in whatever craft you do most.
Size and Maneuverability
Rotary cutters come in a range of sizes, so you need to consider what's most suitable for the type of material you usually work with. If you'll be trimming yard upon yard of fabric, for example, a bigger 60mm cutter may work best.
But if you're working in smaller areas that require more precision, an 18mm cutter might work better. In general, rotary cutters range in size from about 18mm to around 60mm—and everywhere in between.
Think about what size will suit your projects and how maneuverable you need your cutters to be. Also consider whether selecting an electric cutter, for example, could present a learning curve.
Precautions for Using Rotary Cutters
Using rotary cutters can be dangerous, especially if you're new to the tool. Here are the precautions crafters should take whether they're using a cutter for the first or fiftieth time.
Take Your Time
Hurrying can often wreak havoc on your craft project, and the same applies when you're using rotary cutters. Especially if you have electric cutters, it can be tempting to move faster and finish up your project quickly, which can mean more mistakes in the process.
Maintain Visibility
With rotary cutters, it's important to maintain the right perspective while cutting. Most crafters swear by a birds-eye view while cutting fabric and other materials. This way, you can make sure to keep your rotary cutter on the guideline rather than swerving off course because of the angle you're viewing from.
Apply Even Pressure
Regardless of the fabric or leather you're cutting, applying even pressure is a must. This way, you avoid the blade slipping or becoming caught. Moving slowly and evenly, you can trace the guidelines on the fabric and make a clean cut.
Need hints on how to operate your new rotary cutter? See the video below for tips.
Align Your Fabric with the Grain
If you're cutting through multiple fabric layers at once, aligning them along the grain is a smart step. You can avoid resistance in the fabric and achieve a smoother, less jagged cut by moving with the grain instead of against it.
6 Best Rotary Cutters for Every Project Type
Best Manual Rotary Cutters
When you think of Fiskars, kindergarten safety scissors might come to mind at first. But Fiskars' rotary cutters are the grown-up version of those comfy scissors you loved growing up. For everyday projects and crafting tasks, the Fiskars Classic Comfort Loop tool is a must for your toolbox.
We like the ergonomics, including the shaped handle to keep the cutters in your hand. For either left- or right-handed users, the design is trim and neat. Each blade is tough, and these best-selling 45mm cutters are an affordable buy, too.
Grab some replacement blades, and you might be set for most crafting projects from here on out. Replacements are easy to find, though they can be tough to change. But you can loosen and tighten the blade as necessary with a single nut. Plus, a lifetime warranty from Fiskars practically guarantees these cutters will never quit.
As far as safety, a push-button lock ensures safety while you work, and the blade automatically retracts to avoid injuries. You can cut through a range of materials, including cardboard, though Fiskars' rotary cutters aren't intended for leather or upholstery.
The blade guard sometimes gets in the way, but since it's a built-in safety feature, it's something we're willing to learn to live with.
Pros
Fits both right- and left-handed users
Automatic blade retraction for safety
High-grade, precision-ground steel blade
Very lightweight and easy to handle
Strong enough to cut through cardboard
Cons
Not designed for cutting leather or upholstery
Blades are difficult to change
The blade guard can be a bit of a bother
OLFA has a reputation for offering premium products, and their 45mm rotary cutter is no exception. The "Deluxe" handle fits multiple blade types, and the in-hand feel is lightweight and ergonomic. You can move the blade to suit either left- or right-handed users, which makes this an ideal rotary cutter for any crafter.
Whether you're upgrading or are just starting out, OLFA's rotary cutter is an excellent addition to your crafting toolkit. Especially if you already have OLFA tools and blades, this cutter can help round out your collection.
Plus, blades are interchangeable, so you can grab pinking blades, scallop/peak options, and even wave blades for your cutter. The versatility with these cutters is a huge highlight, especially since you can use them on a range of materials, including upholstery and vinyl.
Especially for crafters who have grip challenges, the ergonomics of the OLFA cutters are handy. You won't need much pressure to operate the cutters, and the anti-slip rubber grip molds to your hand. There are also non-slip grooves for your thumb that help keep the cutters in your hand.
While there's a safety lock option, you can also lock the blade in cutting mode for faster crafting. But, if you use the cutters in standard mode, the squeeze-trigger ensures your hands are safe when you stop cutting.
Pros
Can cut through six layers at once
The unit fits pinking, scallop/peak, and wave blades for a range of cuts
Has a tungsten steel blade
Built-in safety lock
Option to lock the blade in cutting mode (via the side button)
Works on upholstery, vinyl, tarp, and a range of fabrics
Cons
Some grip strength is required to activate the cutting function
No warranty promised from OLFA
Only compatible with specially notched OLFA blades
The seam along the underside of the handle (molded plastic) can cause discomfort
Accompanying blade doesn't seem to be high quality (but alternatives are available)
It may look different from other manual rotary cutting options, but that's because the Martelli Ergo 2000 offers a unique grip style. Its ergonomic details can help ease the pressure on your hand and wrist while cutting fabric. That's reason enough to give this 45mm cutter a try if you have arthritis, tendonitis, or carpal tunnel syndrome.
At the same time, there may be a bit of a learning curve when you start out using this model of cutters. Finding a helpful video on how to operate the cutters might help, and you'll need some practice on staying on your cut line, too.
Blades tend to last a long time, but if you need replacement parts from Ergo, they're responsive with customer service. Of course, if you routinely cut up to 15 layers of fabric at a time (which Ergo promises this cutter can do), you might need a few backup blades on hand.
If you're an ambidextrous crafter, it might be a bit disappointing to find that the Martelli Ergo isn't as versatile as other options. You'll need to purchase either a right- or left-handed model, as the blades aren't movable on these cutters.
Pros
Cuts up to 15 fabric layers at a time
Aims to ease discomfort for crafters with arthritis, carpal tunnel, and similar conditions
Replaceable blades
Seems to require less pressure than comparable rotary cutters
Blades last longer than other cutters
Cons
Not compatible with off-brand blades (will damage the screw assembly)
May require a few trial runs to loosen the blade upon arrival
The newest Martelli Ergo 2000 is heavier than previous models
Best Electric Rotary Cutters
The Hercules HRK-100 is an electrical rotary cutter that can practically take off and work all on its own. We like the built-in blade sharpener (not so much the pricey replacement blades) and the ease with which it slices through layers of fabric.
You'll enjoy five speeds to suit a range of projects, and you can cut everything from multi-layer fabrics to leather. The carbide-tipped blade is a highlight, and enables the cutters to saw through up to an inch of fabric. A built-in sharpening stone also helps the blade stay sharp and last longer. And when you do need new blades, off-brand replacements seem to fit and function just fine.
Using this cutter for the first time could present a learning curve, and the poor English in the instructions isn't a highlight. But once you get the hang of things, you'll appreciate the lightweight styling and how well the cutters operate without eating up your fabric.
You may not appreciate the too-short cord, however, so an extension cord may be in order. Replacement blades can also be pricey, which could be an issue if you work the Hercules HRK-100 harder than average. Our final complaint comes down to how well the safety guard works; sometimes it can get in the way of close cuts.
Pros
Octagonal shape doesn't pull the fabric in while cutting
110-volt brushless motor offers exceptional torque for quick cuts
Built-in sharpening stone to help the blade last longer
LED light for illuminating the cutting path
Lightweight die-cast design makes it easier to handle
Cons
Replacement blades can get pricey
Very short cord
The safety guard comes down a bit too low for easy cutting
The Hercules AS100-K is like the younger sibling of the Hercules HRK-100. Its trim profile doesn't mean it lacks power, though: this cutter can handle prolonged use and even stops when it lifts off the cutting surface.
The recessed sharpener is a great feature since it helps avoid hand-sharpening or replacing blades before their time. A six-sided carbide blade resides inside, helping fight back against material that could otherwise dull the blade.
A super-long power cord is also a desirable feature that we appreciate. Safety features like the automatic shutoff capability and the maneuverable cutting foot help you get the job done without risking life or limb. The front knife-guard helps block the blade from reaching your fingers, too.
The lightweight style and maneuverability make the Hercules AS100-K a great choice for smaller-scale projects. You can cut tight corners and even remove the baseplate for smaller areas.
Our only complaint is that this rotary cutter tends to bog down with thicker material, even though the manufacturer claims it can handle leather, vinyl, and more. Still, the double-insulated motor powers through without overheating, so you can trust the AS100-K to get your crafting job done.
Pros
10-foot power cord
Six-sided carbide cutting blade stays sharp longer
Cuts through up to ¼ of an inch of material
Can handle leather, vinyl, and other thicker material
Removable base plate for narrower jobs
Lightweight for easy maneuverability
Cons
Runs a little slower with thicker/tougher fabric
May not be ideal for quilting
Difficult to cut with a straight edge/ruler
We like the Allstar As-100K for its compact size and versatility. The kit comes with an extra blade and a spare brush kit, so you have tons of cutting hours ahead of you from the moment it arrives.
You'll be able to saw through up to eight layers of fabric with ease, and this unit is quieter than comparable models, too. Sharpening the blade is straightforward, since there's a built-in sharpener that makes the task quick and easy.
While this electric cutter is narrower than alternatives, and therefore better-suited to smaller jobs, it's also heavy-duty enough to manage upholstery and other resistant materials. It's supremely portable, too, so you can craft on the go with ease.
One drawback is that there don't seem to be any instructions included, which can make for a steep learning curve. Fortunately, you can find YouTube videos that offer adequate instruction for beginners.
We don't necessarily recommend this rotary cutter for beginners. The AS-100K lacks a safety switch, which could make this unit dangerous in the wrong (namely, inexperienced) hands. It's also heavy, which might make it inoperable for many crafters, especially those with grip strength challenges.
Pros
Adequately long cord for maneuverability
Can handle thicker upholstery fabric
Quieter than alternative rotary cutter options
Narrower build than other electric cutters
Great for bringing along to crafting classes since it's so small
Cons
No instructions included
Difficult to track lines while cutting
Lacks a safety switch to prevent accidents
Very heavy despite how small it is
Final Thoughts on the Best Rotary Cutters
Choosing a rotary cutter can feel a bit intimidating. You want to complete your crafting projects faster, but still want to retain quality. To help achieve that end, we have two recommendations: the best electric rotary cutter and the best manual rotary cutter.
Our top choice for the manual cutter is the OLFA 45mm Deluxe Handle. There's a reason OLFA has an excellent reputation—and it's because their cutter is reliable, comfortable, and compatible with a range of hobbies and cutting needs.
For an electric rotary cutter, your best bet is the Hercules AS100-K. The handheld cutter has a long cord, automatic safety shut off, and can handle everything from jersey and cotton batting to vinyl and leather. Its ergonomics and versatility earn it high marks—which is why we would recommend this tool for your next crafting endeavour.