If you're entertaining the idea of buying a new machine to not only sew clothing or décor projects but quilt, consider the Brother CS7000X. This upgrade of the Brother CX7000i offers a sturdier machine with several improvements. The look is brand-new, and the utility is the same, both coming in at 70 stitches.
The CS7000X has the functions and equipment that a quilter needs without overcomplicated directions or demands on the sewer. You'll find a walking foot, spring-action quilting foot, and a quarter-inch foot to keep design integrity with precision. Take note that the more advanced features like needle up/needle down and built-in quilting stitches are absent.
Of course, ordinary sewing for mending or making clothing or home projects is just as important. Again, this sewing machine delivers on basic requirements without fuss or a high price tag.
I spoke with users, teachers, and retailers to investigate the Brother CS7000X. Our research and conclusions below should help you decide whether to look into this sewing machine for your use.
Here is what you'll find covered in this review.
Is the Brother CS7000X right for you?
An honest list of features and flaws
What to expect when you buy
Alternative choices to the CS7000X
Our Rating = 4.8 / 5
For beginning and intermediate home sewing and quilting, the Brother CS7000X earns 4.8 out of a possible 5.0.
Is the Brother CS7000X right for you?
The price of the CS7000X is quite reasonable considering its features and more substantial build. This replacement of the CS7000i in the Brother line-up could be a good choice after carefully considering both the added features and those it lacks.
Here's an honest list of features (and flaws):
Brother has designed a sewing and quilting machine that will suit a crafting beginner quite well. Still, it is not an ultimate quilting machine. If your needs are modest, and you aren't planning to set up a king-size quilt assembly line, the CS7000X may be all you need. For straight sewing, this machine works perfectly well for nearly any mending or construction project.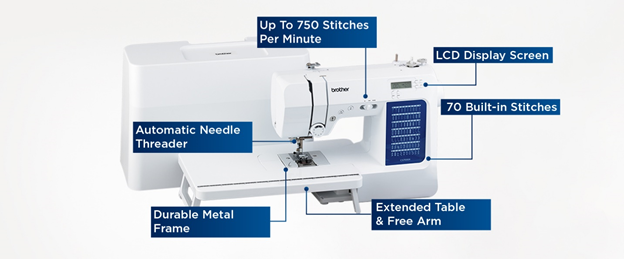 Sewing operations
Sewing is primary with the Brother CS7000X. Although it has quilting capabilities and can even be used for free motion embroidery if you're a deft sewist.
The advanced needle threading and drop-in bobbin feature make these chores easy, automatic, and fast.
You'll get smooth fabric feed with longer 7-point feed dogs.
Included with the CS7000X are 10 presser feet to help make your sewing look professional and last a lot longer as a result. Take the time to learn how each presser works and how it can help your sewing.
Bonus Help for Sewists:
Using the proper presser foot for any stitch is easy. The machine lets you know which presser foot is the one they recommend.
10 Snap-On Presser Feet are included in the box:
Zigzag Foot is the foot used to do straight sewing. It's also used to finish seams and design embellishments with the zigzag stitch.
Buttonhole Foot to sew any of the 7 different buttonhole designs
Zipper Foot easily handles the sewing in zippers through thick, uneven fabrics
Button Sewing Foot securely fastens any button to your project.
Overcasting Foot can substitute for an overlock function, securing seams from unraveling. Used correctly, you may never need a serger to do this critical job.
Blindstitch Foot is excellent for machine hemming. Using your sewing machine to hem garments means even and unobtrusive stitching, and it's much faster as well.
Monogramming Foot, also known as 'N,' is used to create decorative stitching wider than usual. It has a mark on the side to use the start the stitch for placing your pattern. It can also align stitches when turning a corner.
¼-inch Piecing Foot is the foot used to join pieces to make a quilt top. An exact seam width of ¼-inch is necessary for quilt tops to result in a beautiful way where every piecing matches perfectly.
Walking Foot drives a moving feed system, holding and moving fabric between the upper feed dog of the foot and the sewing machines feed dogs. This foot gives the sewist better material and stitching control on multiple layers or difficult fabrics.
The maximum sewing speed is 750 stitches per minute (spm). This speed can be slowed or sped up using the slide lever on the tower for greater control.
Why speed selection Options Are Important:
If you are a newer sewer, you probably won't stitch well at the highest speed. Don't be afraid to turn down the pace. If you are sewing with a physical disability, don't give up sewing because the rate is too much of a challenge. Just choose a lower speed, and you'll do fine.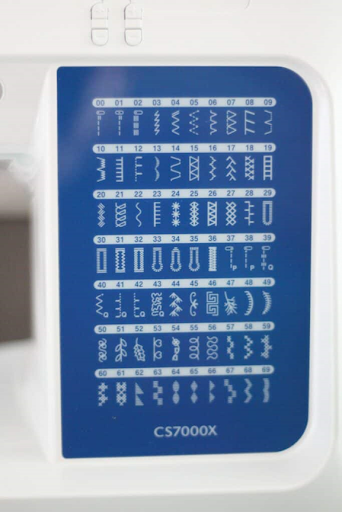 70 Built-in stitches give you most of the commonly used stitches. To select a stitch, you would use a key shown on the front LED panel and the shift key. This makes stitch selection intuitive and straightforward.
How many different stitches do you need?
Some sewing machines offer hundreds of different stitch styles, while others provide only a few dozen. Look at the available stitch charts to judge which ones you will be likely to use.
The maximum stitch length is 5mm, and the full width is 7mm. These settings make it easy to create your own stitching styles.
Why Stitch Length and Width Matter:
If you select a stitch like the ordinary zigzag, you can turn it into something unusual and even extraordinary. Make the stitch longer and wider to create an entirely new look.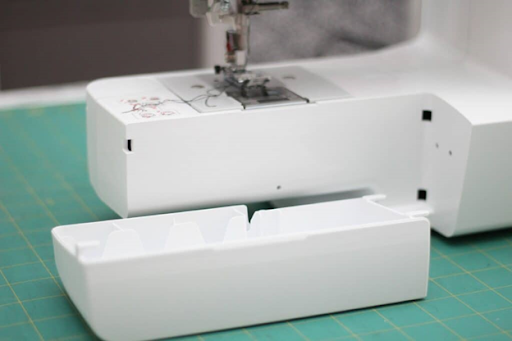 For perfect buttonholes for any garment or project, the CS7000X has 7 buttonhole stitch styles using the 1-step auto-size buttonhole maker.
Remove the wide table extension, and the sewing surface becomes a narrow throat that will let you sew a 0narrow cuff, a dress sleeve, or a pants hem with no fuss.
Home quilting
You can undoubtedly quilt using the Brother CS7000X, but there are no stitches explicitly meant for quilting. Given that quilting stitches are generally the most basic straight stitch using the machine's zigzag foot, this absence really provides no hindrance.
The large-size needle-to-arm workspace ensures that your project will fit in the clearance space without needing to wrestle with layers of heavy fabric and batting.
Two presser feet, the walking foot, and the ¼" piecing foot are the main workhorses for quilting. The ¼" piecing foot will keep fabric pieces joined in the same seam depth for the entire project.
Why a walking foot is important:
The walking foot is essential to guide top, batting, and backing through the machine's extra-large throat clearance. This method ensures that the fabric sandwich is quilted without fabric slipping or sliding out of place.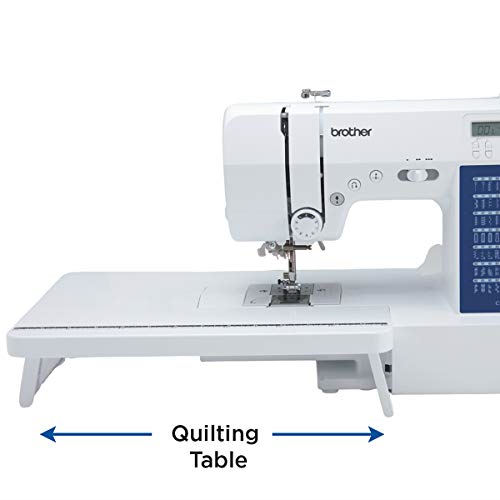 The CS7000X has a detachable wide table that you can easily remove by sliding off to the left side.
Why do you need a wide sewing surface?
The detachable wide table is convenient for quilting. Layers of fabric will pull away from the needle on the commonly wide table surface. A broader and longer table will better support the additional size and weight.
Home embroidery
Although this isn't an embroidery machine, by using the open-toe foot that allows you to see what your threaded needle is doing, it's more than possible. While you can't embroider using pre-designed, downloaded plans, you can use the free motion method of machine quilting.
But Watch Out For: No letter fonts are part of the machine's stitch repertoire.
Warranty
The Brother limited 25-year warranty for the CS7000X includes the machine and included accessories. The warranty only applies to the original purchaser from either Brother or an authorized retailer. If you buy a used or refurbished machine from any other source, the warranty is void.
What others are saying
From the manufacturer:
"The CS7000X feature-rich sewing and quilting machine is a great option for a range of users… designed for ease of use, with convenient features like the LCD display, new higher-end automatic needle threader, easy-to-follow threading diagrams…." Brother International
What the pros say:
"With so many features, it's easy to see why the Brother CS7000X is one of the top-rated sewing machines currently on the market…." TeachYoutoSew.com
"The CS7000X sewing and quilting machine is a great option for beginners and experienced sewers alike with a plethora of convenient features." Walmart.com
"Whether you sew for crafting, garment, home decoration, or quilting, this machine has it all for you at an affordable price! The CS7000X also includes a plastic fitted wide table to support your larger projects such as quilts." AllBrands.com
| | | |
| --- | --- | --- |
| Source | Score | # Ratings |
| Amazon | 4.7 stars out of 5 (as of 4/19/2021) | 16,759 |
| Walmart.com | 4.6 stars out of 5 (as of 4/19/2021) | 21 |
What to expect when you buy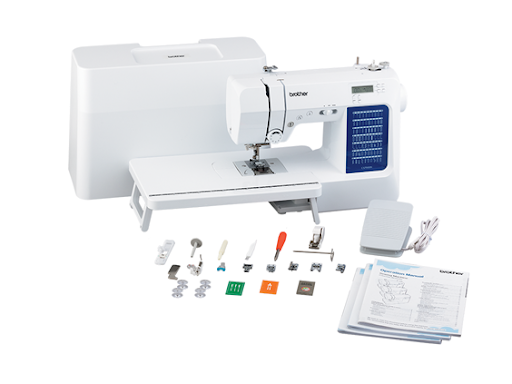 The following accessories are included with the HD6800C:
Darning Plate
Needle Set
Ballpoint Needle
Twin Needle
4 Bobbins
Bobbin Clip
Screwdriver
Seam Ripper
Cleaning Brush
Eyelet Punch
3 Spool Caps
Additional Spool Pin
Accessory Bag
Hard Case for Transport
Instructional DVD
Instruction Manual
GTIN 0012502659129
Alternatives to the Brother CS7000X
I compared the value of the CS7000X to several other sewing machines in its class that was examined for quilting and sewing capabilities.
In a Nutshell…
The Brother CS7000X sewing machine is a solid device with features that will suit most home sewists. The stitch selection, quilting capabilities, and support are well in line with its relatively low cost.