There comes the point in every home sewer's life when we want to go big and bold when buying a new machine. I've sewn for decades and not afraid of adjusting the tension or threading twin needles. We more advanced sewers know how to control our stitching speed for maximum power and perfect stitches. Now, my old machine has gone wonky again; who knows why?
Arriving at the SINGER dealer to get another refurbishment and tune-up, I can't resist spending time among the new machines on display. Is it better to keep using the 20-year-old model or upgrade to one of the newer machines with more outstanding capabilities? Is the investment in a new machine really going to make a difference in my sewing projects?
The third machine I examined on the showroom floor was my old machine's great-granddaughter, the SINGER Heavy Duty 6800C. It turns out that the two computerized versions in the HD lineup were just introduced in the autumn of 2020.
If you are thinking of upgrading your home sewing machine, I've gathered information I hope you'll find helpful in your consideration of the HD 6800C. I also spoke to dealers, seamstresses, tailors, and professionals to ensure each feature or drawback is covered.
Here is what you'll find in this review of the HD 6800C.
Is the SINGER HD 6800C right for you?
An honest list of features and flaws
What to expect when you buy
Alternative sewing machine choices
Here's a list of the HD 6800C features that buyers are most interested in finding.
Our Rating = 4.9 / 5
For top-flight home sewing ability, the SINGER HD 6800C earns 4.9 out of a possible 5.0.
Is the SINGER HD 6800C right for you?
The HD 6800C may be a good option for those with enough sewing experience to take advantage of a rugged machine combined with the latest electronics. I've listed the capabilities, unique features, and drawbacks below to give you a head start on your search for your perfect sewing machine.
Here's an honest list of features (and flaws):
The HD 6800C is the elite member of SINGER's new computerized Heavy Duty line of products introduced in November 2020. That means that all the latest features and developments are packed inside and out. Notice the solid weight of the machine, the reason it's in the heavy-duty category. Lift it, and you'll feel the steel underbody. Why does this matter? The weighty structure means the machine won't skip around your sewing table while using high-speed stitching.
Besides, its structure means that it can handle very dense and weighty fabrics with no problem. If you want to sew multiple levels of denim or canvas, the 6800C will take it in stride. If you're going to sew an embroidered gossamer cotton lawn layette, you probably won't find any machine more capable.
Here's a list of several of the critical feature categories of the SINGER HD 6800C. Also, we'll discuss why they should matter to a shopper looking for the best deal for an advanced, multi-purpose sewing machine that will last for decades.
Stitch selections
More than 300 onboard stitches with 568 stitch applications include straight sewing, stretch, decorative stitching, and 9 automatic buttonhole stitches for the 1-step buttonhole function. A pair of lettering fonts are included, so personalizing projects is easy. This wide variety of stitching means that you can take full advantage of a significant number of choices in either straight sewing or decorative projects.
Machine operation
Operating the SINGER HD 6800C is controlled in two different areas. The front center panel controls the speed and needle operations.
Tower controls
You'll find the controls to operate the HD 6800C on the top side of the sewing machine's front face, known as the tower. With those controls, you can control the (from left to right in the illustration) needle up/needle down function, thread tie-off, thread cut-off for embroidery, and the lever to adjust the machine's stitching speed.

The SINGER HD 6800C has a top speed of 1100 stitches per minute (spm), fast enough for any home sewer. Sound too fast for embroidering? No problem. Just slide the speed control lever to the left to slow the speed. You control the stitches per minute. The machine won't top 1100 spm, but you can control the speed to slow things down.
LED panel controls
The HD 6800C has a large and brightly lit LED panel on the front right side of the machine. This panel lets you know in a hurry which stitches you are using, its length and width, which presser foot is attached, and whether you have the machine set to needle up or needle down. Even better, you can save these settings right on the panel. By keeping your settings, you can call them up again when you sew another project like the one you are making now.
Beneath the LCD panel, there are stitch settings for the computerized control. By combining buttons in combination, you can easily access the hundreds of stitches at your command.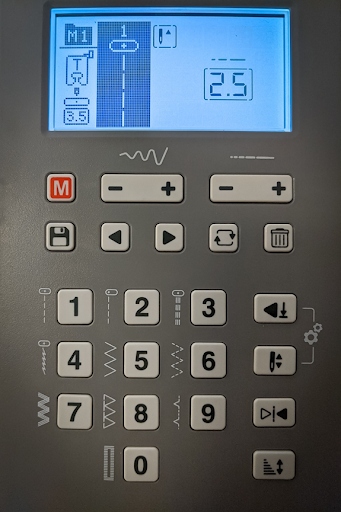 Sewing operations
Of course, the SINGER HD 6800C is excellent for straight sewing projects of any size. If you are hemming jeans or just making a throw pillow, the machine has the strength and precision to ensure you're successful. The adjustable pressure foot presser settings provide that your fabric is held at precisely the correct pressure for your sewing job.
10 Snap-On presser feet provide specialized sewing for sewing most projects. They include:
All-Purpose Foot for everyday straight stitching
Zipper Foot to easily insert those challenging zippers
Buttonhole Foot to use for the 9 different 1-step buttonhole functions
Blind Hem Foot to quickly and neatly hem any garment or project.
Button Sewing Foot so that not only the buttonhole looks neat and professional but the buttons as well.
Sew Easy Foot has a ruler to help you sew in a straight line, whatever the seam allowance.
Satin Stitch Foot is used for embroidery stitching
Even Feed / Walking Foot is the must-have foot for quilting layers of fabric without displacing the material or fill.
Open Toe Foot allows you to see precisely what is happening while you're stitching.
Cording Foot lets you quickly add cording to pillows, bolsters, and bedding
Home quilting
The HD 6800C is also built for home quilting. A walking quilting foot, needle up/down selection on stopping, and drop-feed feature let even newbies catch on to free-motion quilting in an instant. Whether you want to make a bed-size quilt or a snuggie for a baby, the machine is up to the challenge without being over-complicated.
Home embroidery
Embroidering anytime soon? The 6800C is excellent for home embroidery projects with a load of stitches (Embroidery Quick Reference Guide) at your command. The mirror imaging and adjustable stitch length and width bring out all your creativity.
Warranty
The SINGER warranty for the HD 6800C is only for the original purchaser from either SINGER or an authorized dealer. Beware that if you buy this machine second-hand or from an unauthorized source, the warranty is invalid. The terms are for 25/1 (https://res.cloudinary.com/singer-sewing/image/upload/v1612363862/Singer-Website-Library/Warranty/25-1-Warranty.pdf), which is a 25-year warranty for the frame and 1 year for repair of any parts.
But watch out for…
If you are not the original registered buyer of this machine, the warranty will not apply.
Although most experienced sewists will find this machine easy to use, it may take some time and practice to become truly proficient.
What others are saying about SINGER HD 6800C
From the manufacturer:
"The SINGER® Heavy-Duty Computerized Collection has the ability to tackle thicker fabrics such as leather and denim, making it a workhorse for sewists that want a durable machine to express their creativity." SINGER International Inc.
What the pros say:
"This machine is a true workhorse with powerful piercing power for thick fabrics or multiple layers and extra-high sewing speed." Joann
"A SINGER HC1850 Sewing and Quilting Machine review simply has to begin with mentioning that this machine can handle both general sewing and freehand quilting…pleasantly surprised to find that it's intuitive to use and easy to manage." Sewingfromhome.com
Consumer feedback:
| | | |
| --- | --- | --- |
| Source | Score | # Ratings |
| Joann | 4.6 stars out of 5 (as of 4/19/2021) | 15 |
| eBay | 5.0 stars out of 5 as of 4/19/2021) | 4 |
What to expect when you buy
The following accessories are included with the HD 6800C:
Darning Plate
Needle Set
Ballpoint Needle
Twin Needle
Large Spool Holder
Small Spool Holder
Spool Pin Felt
Auxiliary Spool Pin
4 Bobbins, SINGER Class 15 transparent
L-Screwdriver
Brush/Seam Ripper
Soft Cover
GTIN 00756918846611
Alternatives to the SINGER HD 6800C
I compared the value of the HD 6800C to several other sewing machines in its class and found these machines have comparable capabilities.
Best Sewing Machine for Beginners
Our opinion
This SINGER model has comparable features at a low price.
Best Sewing Machine for Beginners
Our opinion
An outstanding computerized machine that needs to be included in considering a purchase.
Best Sewing Machine for Beginners
Our opinion
The SINGER entry is an older electronic sewing machine that will easily embellish, quilt, and sew clothing and home projects.
In a nutshell…
The new SINGER HD 6800C is a computerized high-end model in the SINGER Heavy Duty category. The price is very reasonable. The machine works as advertised, and intermediate sewers and above may find this model a great value.