If you do a lot of sewing or you like to sew heavy fabrics you're right to think you might need a heavy duty sewing machine.
As they are generally made with a solid metal frame and with a stronger motor they can sew faster and more efficiently than a normal sewing machine. They are good at handling tough fabrics like leather and upholstery, and ideal for quilting through several layers.
They are built to last, so with proper maintenance should last many more years than your average machine. As a result they can be more costly but we have included a range of options to suit every budget. We want to help you make the right decision for your needs, so here's our round up of the 5 best heavy duty sewing machines.
Electronic or mechanical?
Choosing between mechanical and electronic is mostly a matter of deciding what features are most important to you. A mechanical machine may be cheaper and easier to maintain but will have limited options for the number of stitches and buttonholes. They will also have fewer of the automated features like auto threading or auto tension.
But, if you're a beginner a mechanical machine may be easier to get to grips with, which may be a serious bonus if you're desperate to get sewing! We would advise to go with whatever you feel most comfortable with and buy the best you can afford.
Speed and stitches
More stitches per minute allows for quicker sewing, but some people may find them a bit too fast if just starting. But, if you're an experienced seamstress a fast machine will really allow you to get through your work more efficiently. You also want a machine to be responsive so you can achieve accurate sewing on different weights of fabric.
When assessing a machine it's important to think about what you plan to use it for. A greater number of stitches allows for more versatility in the type of work you can do, but it may be far more than you need. In general, it's better to get a machine that does one job really well than one that does lots of jobs adequately.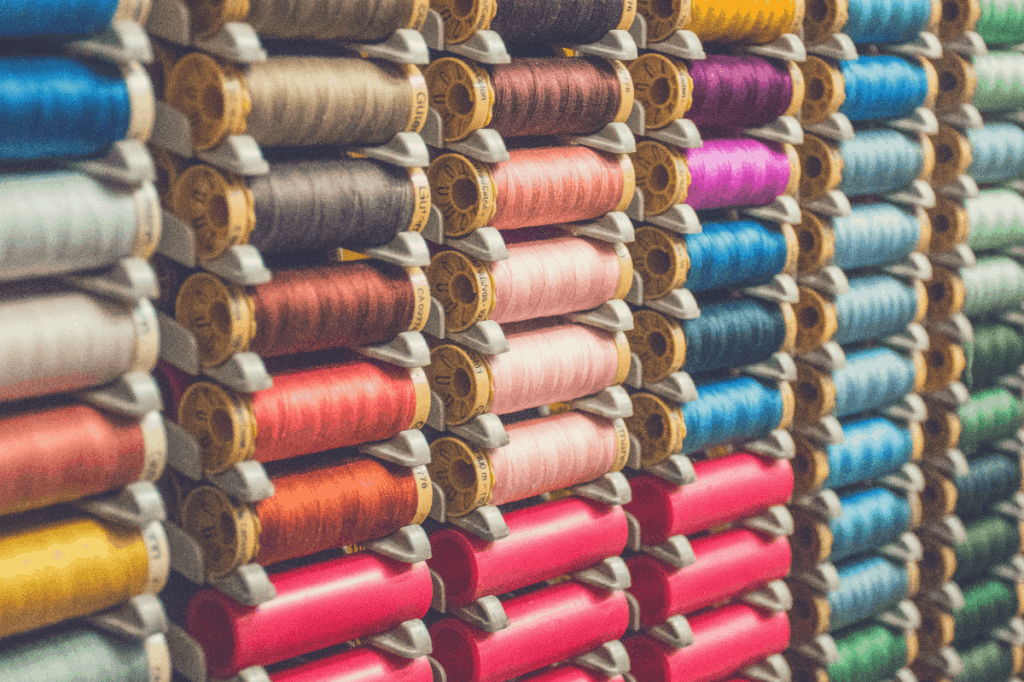 Needles and threading
A constant source of frustration amongst sewers is the threading of their machines. The majority of the machines we have included in our roundup have automated needle threaders for this very reason. If you're looking at one that doesn't have this feature it may be worth checking reviews to see how easy, or hard people find it. It's always useful to look out for any online videos that can help, as often seeing someone do it is easier than trying to follow printed instructions.
If you're planning on sewing with heavier weight fabrics then you're also going to need to make sure you've got the correct needles and threads. It's important to get the correct needle for the job, as an incorrect needle is likely to break.
Top tip – Singer machines only take Singer needles, they are slightly longer than standard needles and can only be used in a Singer machine
Click here for further information on needles sizes.
As sewing thread is such an enormous topic all by itself please see our Ultimate Guide to Sewing thread to tell you anything you'll ever need to know about thread!
Feed dog
Feed dogs are teeth that move under the foot of the sewing machine to move the fabric along and help maintain an even and consistent stitch. Most modern machines allow you to raise or drop these depending if you want them engaged. If you want to be in full control of direction and stitch length for free motion quilting, it's vital you can drop the feed dogs on your machine.
Weight
Unsurprisingly, heavy duty sewing machines tend to be heavier than normal machines. They need more power and force to cope with the heavier fabrics so are made from more durable materials such as metal. This extra weight ensures a more stable base which allows them to maintain stability and stitch quality. So, if you're looking for the best upholstery sewing machine you'll certainly want a heavy duty one.
Maintenance
Most machines will need some maintenance to run at their best for a long time. Make sure to keep your sewing machine dust free and oiled and it should keep you sewing for many years to come.
---
Our pick of the best heavy duty sewing machines
This is our top pick as it does such an excellent job for a low price. It has 860 stitches per minute, and a variety of 18 stitches to choose from . This should cover most of your sewing needs without blowing your mind with too much choice. It performs beautifully, sewing through the heaviest fabrics. The powerful 1.0 amp motor, produces even and consistent sewing.
We found the heavy duty metal frame makes it stable even while sewing at high speeds, and it's so simple to set up and start sewing. We thought the included accessories gave a great range of uses, covering most of your needs.
The LED light gives you a bright working area and the automatic needle threader made the sometimes painful task of threading so much easier. We loved the adjustable presser foot pressure. It allows you to drop the pressure for thinner fabrics and dial it up again when you move onto something heavier. This machine also has metal gears instead of nylon ones, which we liked, as these will last better in the long run. This is such a great all rounder and will be excellent for a variety of sewing projects.
Pro's:
Metal gears
Automatic needle threader
Bright LED work area
Stable and consistent sewing
Powerful motor for sewing through the heaviest fabrics
Adjustable presser foot pressure
Con's
No USB connectivity
Thread cutters in awkward place for right handers
Foot pedal can be slippy so may need felt pads underneath
We feel that this is the best heavy duty sewing machine you can buy for your home today. It's easy to use and can be used on everything from light day to day sewing to really heavy projects.
Best for budget
Our opinion
There has been some controversy about the reliability of modern Singer machines compared to older models. But, this machine is fantastic and comes with an excellent 25 year limited warranty so we have chosen to include it here. With 32 built in stitches, and speeds of upto 1,100 stitches per minute we found it to be powerful, fast and with a great range of stitch options.
Like the Janome it also has an adjustable presser foot pressure, which allows you to move between different projects and fabric weights . We liked the top drop in bobbin as it was easy to use and you could keep an eye on the thread supply, so you didn't run out unexpectedly!
This is a real workhorse of a heavy duty sewing machine, it may not be the prettiest to look at but it is so capable and simple to use. This is our budget pick as you get such a lot for your money, but don't let that fool you into thinking this is a subpar machine, it isn't.
What we love
Quick with 1100 stitches per minute
Automatic needle threader
Smooth consistent sewing
Top drop in bobbin is easy to insert, remove and monitor
Watch for
The pedal can be jumpy
Smaller arm space
Best for quilting
Our opinion
Now if you are looking for a heavy duty sewing machine for quilting then this is our absolute favourite. We found it to be fast and even. The aluminium die cast arm and bed means it is so smooth with barely any vibration. Plus we found that the sewing speed of 1500 stitches per minute meant some speedy top stitching!
This is not the easiest machine to set up, as it is a full rotary hook machine. The top thread tension and bobbin tension need to be adjusted manually before you can get going. You also need to adjust the presser foot pressure, oil all 6 ports and have a thorough read of the instructions. But, once you get it set up it sews like a dream. Plus, if you have any problems setting it up JUKI have a brilliant customer service team.
We liked the control of the foot pedal and we loved the auto thread trimming. It saves so much thread and speeds up piecing. Plus the knee lifter lever was also a real bonus, it's well placed, easy to use and a total time-saver. This machine copes brilliantly with many layers and the wide work area means it can manage the bigger projects you need it to.
This is not a starter machine, but if you're willing to get to know it a little before you get started you'll have a powerful, smooth, beautiful straight stitcher for years to come.
What we love
Beautifully smooth sewing
Automatic thread cutter
Excellent customer service
6 oil ports
Excellent foot control
Easy bobbin replacement
Knee lifter lever
Watch for
May be tricky for beginners
Presser foot pressure can need adjustment
Best overlocker / serger
Our opinion
A serger is for binding and trimming seams so that the fabric cannot unravel using an overlocking stitch. They are loved for their ability to create strong beautiful seams. We have chosen this as our favourite serger as it's quick and consistent and finishes off projects beautifully.
You can use upto 4 threads for a greater variety of seams and strength. The heavy duty knives cut through even the thickest fabrics well. We liked that it handled corners particularly well without causing any distortion to the fabric. It has an inbuilt seam guide with a gauge on the guard cover, which is fantastic for producing really accurate overlocking. Despite its color coded threading guides we still found it fairly tricky to thread.
We loved the built in rolled hem function which produces beautiful rolled hems! And that the tension is quick and easy to adjust. We were a little disappointed that it doesn't come with a scrap catcher. But, considering the way it sews it's worth having to do a quick sweep after.
This machine does such a great job of producing beautiful seams on the heaviest of fabrics and is excellent value for money.
What we love
Quiet
Runs smoothly
Very consistent stitch quality
Knives cut through bulk of fabric easily
No distortion and navigates curves very well.
Watch for
Not easy to thread.
Threads are exposed so can be caught accidentally
No scrap catcher
Best for advanced all rounder:
Our opinion
This machine is a serious piece of kit and a superb choice for a sewer who likes to do a bit of everything. It has a choice of 600 stitches, including built in lettering for 5 different alphabets. It can produce an exact mirror image of what you've sewn, and you can choose from 13 different one step buttonholes! We loved the easy to use stitch selector as it gives you a preview of the stitch on the large LCD screen.
It is such a sturdy machine and the 18.2lbs would be a little cumbersome to travel with. But, it gives a stable base for smooth, consistent sewing. We found that this machine was a joy to use. Although, it was a bit tricky to thread so we would recommend a thorough read of the instructions first.
We appreciated the large extension table and throat space, and felt like there was plenty of room for even king size quilts. The speed was pretty decent too at 850 stitches per minute. We particularly loved the drop in bobbin, and automated thread cutter. These two features along with the automated thread tension made sewing a joy on this machine. It meant we could spend all our time sewing, which is perfect!
We would recommend that this is a heavy duty sewing machine for a more experienced sewer or an ambitious beginner. It is more expensive but it has so much scope to do so many things from embroidery, to garment making, to quilting and beyond. It can be a bit complicated to set up but with a bit of patience you'll have a really versatile machine.
What we love
Over 600 stitches to choose from
Automatic needle threader and cutter
Big color touch screen
Easy to use
Consistent and smooth stitching
Large throat space
Automatic thread tension
Powerful and fast
Watch for
Lack of detail in the instructions for special features
Zig zag stitch only goes from 2.0 – 6.0
Can be hard to thread
Editor's Pick
Our Editor's pick was the Janome HD3000 as it's a fantastic machine and it gives excellent value for your investment. It has enough stitches to cover most projects, and it has a durable construction with metal components and gears. It's really easy to use for both beginners and experienced sewers. With all of the great features, we are confident you will love sewing on your Janome HD3000 for years.