The SINGER START 1304 model sewing machine is a solid value for light sewing chores and for new sewers. This basic machine has everything you'll need with no confusing bells or whistles.
I'm a veteran home sewer with more than 30 years of extensive experience, from a 4H project as a child to complete wardrobes and extensive home furnishings. I've used a good many SINGER sewing machines from the original treadle model to the newest electronic marvels. The company is long established and at the top of sewing machine manufacturing. I am happy to recommend their products.
To make ensure I am fair and insightful with this review, I consulted with my pro friends, instructors, and buyers.
Our Rating = 4.8 / 5

For basic sewing, the SINGER START 1304 entry model is hard to beat. A fantastic option for beginners or light sewers. It earns a solid 4.8 out of a possible 5.
Who is this machine for?
New or inexperienced sewers will find the SINGER model 1304 fits most of their sewing needs. This is also a good choice for children just beginning their journeys in sewing. Just as important, the machine is right for those who sew only for light mending or the simplest home projects.
The SINGER 1304 reviewed: features and flaws
These are the key features, pros, and cons behind our rating.
Here's what makes it so good:
This SINGER is a full-size machine with the power you expect. It is lightyears away from the cheaper minis or handheld machines that can't offer the precision and 'sew-ability' of a genuine home sewing machine.
The 1304 is very lightweight at 11.5 pounds. If you want to take it with you on vacation, to a sewing class, or to a club meeting, you can just snap on the included travel case and go.
The top speed of 350 to 400 stitches per minute (spm) is slow enough for nearly anyone to easily control the sewing process. The machine's speed won't run away from the sewer. To put this in perspective, most advanced machines have speeds over 1,000 spm.
The 1304 has six built-in stitches used by a mechanical dial. These cover nearly every simple sewing requirement, and include 5-millimeter stitch width.
There are 57 different stitch applications using the machine's controls.
A detachable extension table makes sewing small pieces a breeze with the resulting free-arm structure.
This sewing machine can be used on any table with the foot pedal or in a sewing table operating the pedal with your knee.
While the outer shell is plastic, the inner frame is metal for more extended wear.
Mechanical controls, rather than the electronic type, will last longer even with heavy use.
An automatic bobbin winding system makes this chore a breeze. To avoid broken needles and tangled bobbin thread, watch SINGER's video on how to use this feature before you start sewing.
Included with the machine are the following presser feet: All-Purpose, Zipper, and Buttonhole presser feet. You can expand your collection with an additional presser feet set that includes Blind Hem, Cording, Darning/Freehand Embroidery, Even Feed/Walking, Gathering, Narrow Rolled Hem, Overcasting, Satin Stitch, Straight Stitch PLUS Twin Needle and SINGER accessories case. Adding these additional feet greatly expands your sewing range and capability.
Automatic thread tension adjustment that takes the guesswork out of manual settings. Setting tension incorrectly results in too tight or too loose stitching that creates sewing chaos.
Dual thread spool pins hold two spools of thread for use in decorative and other stitching applications. It lets you securely stitch knits, hems, parallel rows, and decorative stitches. If you will need dual stitching, be sure to buy at least two spools of thread for your project.
The four-step buttonhole feature produces professional-looking garments.
A removable extension table allows a narrower free-arm surface for sewing cuffs, kids' clothes, or small projects. Removing the table converts the machine into a free-arm sewing machine.
The machine comes with a travel case.
Simple enough for children to use well.
25-year limited warranty.
But watch out for:
The proper pressure to use on the pedal can be tricky to learn for youngsters and new sewers.
The plastic bobbins included are subject to breakage and just don't wind as well as the steel variety. Consider buying a good-size collection of Class15 steel bobbins.
The accessory kit included contains only light and mid-weight needles. Always have plenty of extra Class 16 needles at hand including heavy-duty needles and twin needles.
What others are saying
From the manufacturer:
"Great for simple projects or occasional mending and repair. Just turn a dial to select your stitch and start sewing!" SINGER Corporation (SVC)
What the pros say:
"The SINGER START 1304 is a basic, simple, and easy-to-use mechanical sewing machine. It is a good choice for beginners and also for those looking for a lightweight, portable machine." — Alison, Sewing Machine Ratings
Consumer feedback:
| | | | |
| --- | --- | --- | --- |
| Source | Av. Score | Last checked | No. Ratings |
| Amazon | 4.5 out of 5 | 8 Apr 2021 | 4883 |
| Joann | 4.7 out of 5 | 8 Apr 2021 | 18 |
| SINGER Online | 4.1 out of 5 | 8 Apr 2021 | 68 |
What to expect when you buy
Unboxing
Demos
SINGER Sewing Machine's Owner's Class Video
Accessories
Also included in the package:
Pack of needles
Plastic bobbins
Needle plate screwdriver
Spool pin felts
Seam ripper / lint brush
Power line cord
Foot control
Quick Start Guide
Instruction manual
Alternatives to the SINGER START 1304
The SINGER beginner's machine is, in our opinion, one of the best models. Of course, other brands do an excellent job of covering the simple sewing market. We have found the following machines are up to the job.
Has 10 built-in stitches, 4 sewing feet, 3 needles, 4 bobbins, an instructional DVD, and manual.
Has 12 stitches, snap-on presser feet, dial stitch selector, and up to 860 stitches per minute speeds.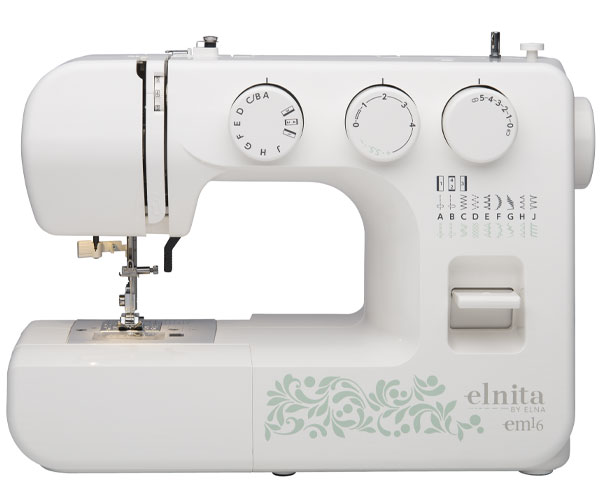 Is a basic machine with 16 stitches, buttonhole capability, and adjustable thread tension.
In a nutshell
The SINGER 1304 may be the right choice for basic everyday sewing with easy portability and storage, a short learning curve, and only simple skills needed for successful sewing. In our opinion, it's a solid choice for children, beginners, and those who travel with their machines.