Overlocker sewing machines are used to sew the edges of two pieces of fabric for seaming or hemming. Overlocker machines have many names such as sergers or cover-stitch machines, but the purpose of each of these is slightly different.
If you're in the market for the best overlocker, there are many things you'll want to understand and features you'll need to look out for. In this review, we'll break down the best sergers and help you choose the right one for your needs and skill level.
What is an overlocker or serger?
Overlockers originated in industrial sewing and remained there for a long time, but in today's world, they're small and affordable enough for anyone to buy one for their home. Overlockers are also called sergers, and they're used to overlock stitches and close edges of material to prevent fraying or damage.
In some cases, tailors use sergers to trim off sections of the excess seam, so you don't have to do it later when you're finished sewing. These machines are excellent for edging and hemming, and they add a more professional look and clean finish to the job.
Some might say that these machines aren't necessary because you can do the same job with a regular sewing machine, but there are a few different reasons why this isn't true.
Sergers use loopers to feed from as many as seven cones, which makes the stitches more pliable. This component is the essential selling point of sergers because they add more technical elements to the clothes and last longer when performed this way.
You cannot use an overlocker by itself, and for most projects, you will still need to have a sewing machine. An overlocker or serger is meant to accompany the traditional sewing process.
What makes an overlocker machine different from a traditional sewing machine
Since these machines are less common, many people might be unsure of what they do. A serger is a form of a sewing machine, but its purpose is different. Here are some of the differences between the two.
Bobbins – A traditional sewing machine comes with one bobbin, whereas a serger can have up to five.
Threads – Your regular sewing machine has only one thread, but sergers come with as many as three or four.
Speed – A traditional sewing machine requires much human intervention and control for it to function. A serger runs automatically, and the machine stabilizes the thread flow.
Purpose – While we find sewing machines and sergers in commercial and home use, sergers are most common in the mass production of clothing.
Your serger will sew almost twice as fast as a sewing machine, which takes some of the load off the sewing process.
Types of serger stitches
You can do a lot with the best overlocker, and there are many stitches to add flair and excitement to your project. This factor alone is what turns people's eyes to the serger even if they've never thought about purchasing one before. Here are some of the stitches you can do with a serger:
Three-Thread Overlock – Many use an overlock stitch when creating a blind hem. This stitch is great for delicate fabrics because it doesn't put a lot of pressure on them, and you still have plenty of control.
Four-Thread Overlock – A four-thread overlock is a correct choice when finishing a seam. This stitch creates a seam that is long-lasting, durable, and strong on clothes that experience a lot of wear and tear.
Two-Thread Rolled Edge – If you need a narrow seam on sensitive material like household fabrics such as tablecloths and curtains, you can add plenty of detail using rolled-edge stitches.
Who should buy an overlock machine?
If you're new to the world of sewing, that's okay. We understand how all of this might be a little overwhelming when you're not sure what you're looking at or reading about. Lucky for you, there are many jobs that a serger is useful for, even if you're a beginner.
Sergers are the best choice for finishing a product when hemming, edging, or seaming is needed. The serger reduces the amount of work it takes to create garments, but there is a steep learning curve here. You can't simply purchase one of these and fire it up right away; it takes some time.
You can use an overlock machine for some of the following:
Knit fabrics
Quilting
Pajamas
Delicates
If you need to sew zippers, buttonholes, or decorative areas, you won't want to use a serger, and you'll have to use a traditional sewing machine alone.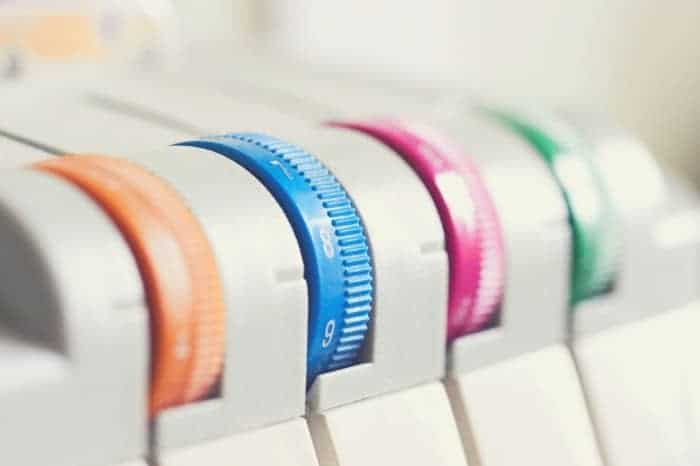 Features to look for
Now that you understand a bit more about what an overlocker can do, it's time to take a look at some of the specific features you'll want to have on the one you purchase. If you have experience with these machines, you can likely skip right to the review section because you know all of this already.
If you're getting acquainted with sergers, you might want to stick around and take a look at some of the following features:
Power
Power is important for all sewing machines because it impacts how efficiently you can work. A powerful serger will grant you the freedom to work on many types of fabric, whether tough, durable, sensitive, or delicate. It's important to find a middle ground in terms of power and functionality.
Stitch Capacity
The stitch capacity will vary from machine to machine, but the higher, the better in most cases. Overlockers create firm edges, so they need to offer a combination of many different stitch patterns based on the fabric you're working on and the desired end result.
A larger stitch capacity will provide you with more options, which is what you want when you're spending a decent amount of money.
Cost
Speaking of money, the cost is important too. The price of your machine will depend on how many features and functions you desire. Take the necessary time to compare different machines and establish a budget that provides you with the features you want but doesn't drain your bank account. You should be able to get the best overlocker for an affordable price.
Sewing Speed
When compared to traditional sewing machines, overlockers operate at a much higher speed reaching as high as 1500 stitches per minute. The faster the machine, the quicker you can complete projects.
Our reviews of the best overlockers
Now let's offer some prime examples of the overlockers you'll want to have in your home or small business. These all boast many of the features we explained above, and they're available in an affordable price range to suit your budget.
Our best overall choice
Our opinion
Here we have an exceptional overlocker from a brand that always seems to stay on the cutting edge of technology. They produce a vast assortment of sewing machines, and this one offers exceptional performance for a price that is affordable for anyone with a knack for the craft.
It comes with a 2/3/4 thread capacity and four hem rollers built-in. The machine boasts adjustable stitch length, and it comes with a free arm for sewing around tight corners and on sensitive fabrics.
The ProFinish delivers great power while still being lightweight and portable enough for you to put away and bring it out when you need it if you don't sew on a regular basis. Overall, it's a highly effective and optimal overlocker for a price that impresses us.
What we love
Great stitching speed at 1,300 stitches per minute
Offers a large assortment of stitches
Free arm works great for sleeves
The machine is lightweight and easy to use for beginners
Watch for
Threading the machine is a bit of a challenge
The suction cups on the bottom aren't the best
Our second choice
Our opinion
For the next choice, we have an exceptional Singer machine that offers the capabilities for up to five threads so you can create many different finishes.
It has a speed of 1300 stitches per minute so you can move your way through quick projects or work at optimal speed on long ones. You have complete control over the speed on this one so you can slow it down if you're not ready to work quickly yet.
This one also comes with a fully automatic tension adjustment, which offers you more control over how much pressure the machine puts on your fabrics. If you're concerned about pulling, you can lighten it up.
Lastly, Singer has a solid reputation in the industry for producing the best quality products. Still, just in case you aren't satisfied, you get a 90-day warranty covering adjustments, belts, rings, bulbs, attachments, and a two-year warranty for motors and major components.
What we love
Self-adjusting tension
2/3/4/5 capacity
Choose between using it as a serger or cover stitch
Fast stitching speed
Watch for
Heavier than some other options
Manual threading is a challenge
Our third choice
Our opinion
This is one of the best overlockers for its versatility and adjustable operation. It's designed for finishing edges on many different fabrics, and it would become a great addition to your craft. It offers differential feed ratios between .7 and 2.0 so you can get a great edge on any type of fabric.
The primary perk of this machine is the fact that you have 22 different stitch functions, including a four-thread, three-thread, narrow rolled hem, and ribbon lock. The serger is a great choice for delicate bridal wear all the way down to home decor that requires a bit more of a rugged stitch.
It pumps out a speedy 1300 stitches per minute, and it's not too heavy or difficult to move around.
What we love
3-4 stitch capabilities
Can perform many different stitches
Lightweight
Great for the versatility of jobs
Watch for
LED light isn't too bright
Snap-on feet aren't as stable as you would like
Our fourth choice
Our opinion
The Janome 8002D is a popular serger from the Japanese brand. Over time they've proven themselves as a reputable dealer, and this powerful overlocker offers some exceptional features with high-speed being the one that stands out the most.
The machine features a 3-4 capacity and a color-coded threading system that makes the manual threading process much easier than some of its competitors. It comes with a built-in roller and delivers up to 1300 stitches per minute.
What we love
Fast stitching speed
Color coding makes threading easier
Durable and long-lasting
Affordable
Watch for
Not enough power for tough fabrics
Frequently broken threads
Our fifth choice
Our opinion
Finally, we have a premium offering from the exceptional sewing machine company Juki. This is a top tier product in their line, and it offers great performance and power with easy operation for beginners and seasoned veterans alike.
It comes with an adjustable differential feed, 2-3 thread capacity, automatic roller, and jet-air threading system that simplifies the process. In addition to all of these features, you get Juki's five-year mechanical warranty covering all consumable parts like loopers, feed dogs, bulbs, and lamps.
JUKI also includes an informational disc with the purchase that will teach you everything you need to know about sergering. This feature is incredibly helpful for someone looking to use one of these machines but is unsure how.
What we love
Easy to thread
Fast stitching speed
Looper threader ideal for thick threads
Comes with many accessories
Instructional DVD included
Watch for
Expensive
Intended for people with experience in sewing
Final Thoughts
After much deliberation and discussion, we've decided to name the SINGER | Professional 14T968DC as our best choice overall. This machine offers the 2/3/4/5 capabilities, a fast stitching speed, and an extensive warranty, which is something we always look for in our machines.
Overall, it checks all of our boxes, but every machine above is a great option if you're looking to improve, optimize, and enhance your craft.